When shopping around for a new car you will find that all brands offer bells and whistles. You can find every new vehicle has available rear view cameras, Bluetooth, power locks, etc... While there are plenty of reasons why people shop for Subaru's there are 4 main things you should know: 
1. Subaru Boxer Engine. Flat. Smooth. Smart.
Drawn from a century of intelligent performance, the horizontal layout of the SUBARU BOXER engine combines balance with power and efficiency. Every Subaru comes with a SUBARU BOXER engine.
Horizontal Design


Like the jabs of a boxer- where the engine got its name- the SUBARU BOXER layout allows the engine to be positioned in-line with the drivetrain for maximum transfer of power. Many other engines are transverse, or tuned perpendicular, and can require additional drivetrain components to transfer power which reduces vehicle efficiency.
The punch-counterpunch movements of the boxer's pistons cancel out each other for a smoother running engine without having to use additional components to counteract them as in many in-line and V-type engines.  
Low Profile


With pistons moving horizontally, the SUBARU BOXER engine has a flat, low profile, and is almost perfectly symmetrical for a well-balanced vehicle. Its low profile can provide a lower center of gravity than other designs, providing quick handling and flat, confident cornering.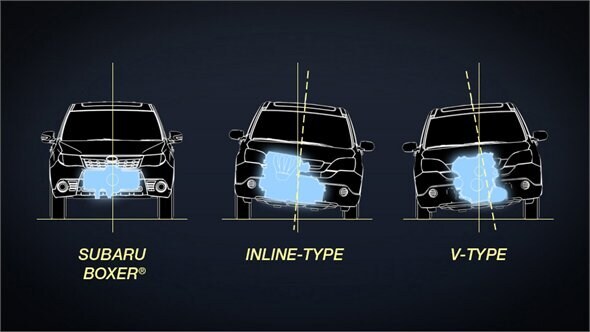 Make an Inquiry
Hours
Monday

9:00am - 6:00pm

Tuesday

9:00am - 6:00pm

Wednesday

9:00am - 6:00pm

Thursday

9:00am - 6:00pm

Friday

9:00am - 6:00pm

Saturday

9:00am - 6:00pm

Sunday

Closed
Directions
Get Directions
SUBARU BOXER Engine Options


These are different SUBARU BOXER engines for the different styles of Subaru vehicles, tailored to the vehicle and meeting the performance requirements of customers' needs. But every engine is built from the same simple, efficient design.

 2.0-liter and 2.5-liter Flat-4

 2.5-liter Turbocharged Flat-4

 3.6-liter Flat-6

 


Producing 148 and 170 horsepower 

respectively, these 4-cylinder engines 

combine capable power, impressive

efficiency, and impeccably smooth

operation. 

Available in 227,265, and 305-horsepower versions, this turbochar

ged, intercooled 

4-cylinder engine provides maximum power

for exhilarating performance. 




The largest SUBARU BOXER engine available, this 3.6-liter 6-cylinder serves up 256 horsepower and 247 lb-ft of torque.


 

2. Symmetrical All-Wheel Drive. Control The Road.

You need balance and an even distribution of power for maximum traction, instead of the slip-then-grip alternative. Almost every Subaru comes standard with Symmetrical All-Wheel Drive for better stability, efficiency, and a quicker response to slippery conditions.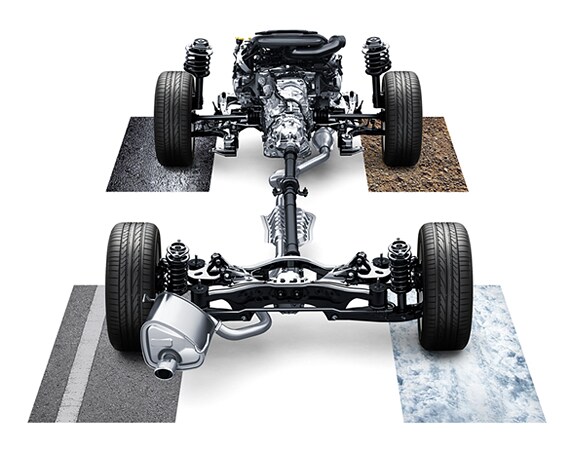 Efficiency and Durability




Symmetrical All-Wheel Drive has the

engine mounted in-line with the


drivetrain, providing a seamless


transfer of power to all four wheels.


Other AWD systems need additional


drivetrain components to route the

same powerto the wheels, often using

complex designs. More components

tend to reduce vehicle efficiency and

could add to higher maintenance costs.

       Stability and Control




The balanced design of Symmetrical


All-Wheel Drive helps add control through uniform stability. With power being


distributed to the wheels with the best


traction, it holds you true to the path. Front-wheel drive vehicles generally

understeer or push in a turn, while

rear-wheel drive vehicles can often


oversteer in a turn.

                    3.6-liter Flat-6




Symmetrical All-Wheel Drive sends power to all wheels simultaneously for maximum traction and acceleration- even with the beefier Flat-6 engine.




In slippery conditions, that power is actively distributed to the wheels with the best traction. Power is available when you need it, despite the worst mother nature can throw at you.

How It All Works Together
Symmetrical All-Wheel Drive, with a suite of other Subaru active safety systems like Electronic Brake Distribution and the Anti-Lock Braking system, helps to give you greater control and confidence on the road in almost any weather condition. And here's the proof.
3. Multimedia Devices & Electronics for the Modern Adventurer.
With premium audio, satellite radio, GPS and other interactive features, Subaru keeps you connected.


STARLINK

The STARLINK system puts news, food, weather, music, podcasts, audiobooks and other multi-media content into your vehicle and at your fingertips. It even incorporates Bluetooth and state-of-the-art navigation. And because it's part of a Subaru, it's designed to operate in the most convenient manner possible.

Bluetooth

Staying safe on the road means keeping your hands on the wheel. That's why Subaru offers Bluetooth hands-free technology to manage phone and audio systems. Bluetooth-enabled mobile phones link directly through the Subaru audio system.
GPS Navigation

Find all your destinations easily with Subaru's available navigation systems. Easy touch-screen or voice-activated controls let you set a location, find a point of interest, or change your destination within seconds. Select models also offer traffic information, and an eco-route feature that will plot the most fuel-efficient path to your destination. 

USB & iPod Interface

Control your music device through the Subaru Media Hub iPod interface, located in the center console to keep it all contained. Toggle from radio to CD to iPod through the audio system or optional steering wheel controls, even wirelessly.

Premium Audio

Your music will come alive with the Harman/Kardon premium audio system, designed with an array of speakers and up to 440 watts of power. Enjoy stunning clarity and realism as the Digital Signal Processing (DSP) enhances fidelity and harmonic richness.

HD Radio

Converts traditional analog radio signals into digital broadcasts complete with enhanced data features. Also includes additional HD programming not available through regular radio technology.

4. Safety drives Subaru Design


For the sixth consecutive year (2010-2015), the Insurance Institute for Highway Safety (IIHS) has recognized Subaru as the only manufacturer with a TOP SAFETY PICK winner for all models. We don't shy away from crash tests, because safety is at the forefront of our design.

Subaru EyeSight®
Subaru takes a look into the future with EyeSight.[1] Two cameras are mounted by the rearview mirror to monitor traffic and react to conditions even before you do. Basically, EyeSight sees the problem and initiates action to help avoid the trouble. EyeSight will also sound an alert and flash a visual warning if there's danger of a collision and will apply the brakes automatically if you don't. It can also optimize cruise control and warn drivers when they're swaying outside their lane.
Control and Braking
Along with the traction that Symmetrical All-Wheel Drive gives you, Vehicle Dynamics Control (VDC), a stability control system, automatically senses steering and braking inputs to help keep the vehicle on the driver's intended path. The VDC system also includes an all-wheel all-speed traction control system.
In stopping situations, the Anti-Lock Braking system (ABS) pulses braking power to help prevent wheel lockup. Electronic Brake-force Distribution (EBD) optimizes the distribution of braking force between the front and rear wheels according to how the vehicle is loaded with passengers and cargo. And the Brake Assist system helps ensure maximum pressure is applied to the brakes as quickly as possible in an emergency situation.

Protective Systems
A ring-shaped reinforcement frame helps provide high-impact protection for the passenger compartment. An advanced airbag system deploys up to six airbags, with Forester, Outback and Tribeca models also including a rollover sensor. And the engine's low placement is designed to allow it to drive under the chassis in a front-end collision, further protecting the passenger area.

Visibility and Child Safety
Every Subaru is designed for optimal visibility, from generously sized windows to an available rear-vision camera on certain models, helping to improve rear visibility. Every vehicle also comes standard with the LATCH child safety rear seat system and rear child door locks. All sedan models are equipped with a self-illuminated inside-the-trunk release handle to help avoid entrapment.